Please note: This article was first published on The Vegan Tourist and last updated July 28, 2013.
I spent my most recent vacation – 11 days in April 2013 – on the island of Menorca, Spain. We rented an apartment, and cooked many meals ourselves, as Menorca isn't really famous for her vegan cuisine. I've already written several articles about it, you can find them all here.
Today, I want to give you a few tips about vegan food shopping in Maó (Mahon), the island's capital.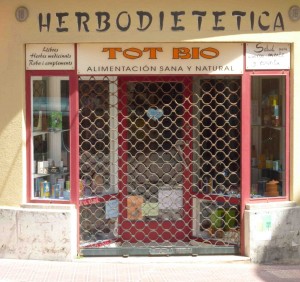 Make sure to stop by Tot Bio, a small organic store. As far as I know, it's the only organic store in Maó, even though approximately 29.000 people live there. In Austria, about 20 % of all agricultural land is farmed organically, and it came as quite a shock to realize that Menorca seems to have missed the organic revolution. It's like travelling back in time – Menorca (all of Spain ?) seems to be rooted firmly in the 20th century in terms of agriculture, animal welfare, and nutrition.
So buy something at Tot Bio, this small store deserves to be supported.
Here's what you'll find: a small selection of cosmetics, including vegan shampoo; various plant-based milks (almond, rice, soy), both in 1-litre containers and in smaller sizes. They sell several vegan bread spreads, chilled tofu, Seitan, and vegan burger meats; various grains, beans, and power bars. The usual stuff really.
You can also purchase organic chamomile here – grown on the island – which is practically the only vegan "souvenir" you can buy on Menorca (you can also buy gin, which I believe is vegan, but I'm not 100% sure). All other "souvenirs," for which the island is famous, are non-vegan: leather shoes, cheese, and various pastries.
I forgot to write down Tot Bio's opening hours, which aren't listed on their website either, but they close down for a lengthy siesta each day.
Contact information for Tot Bio:
Carrer Bonaire, 18
07701 Maó
E-mail: info@totbio.es
Phone: 971 363 861
Website: http://www.totbio.es/
Your best bet to stock up on all kinds of supplies is definitely the Binipreu supermarket in the basement of Claustre del Carme on Sa Placa.
The Claustre del Carme is an old cloister and one of the sights to see on Menorca. It's right in the centre, very conveniently located, and today the cloister is the city market.
We shopped at this supermarket on the first day of our vacation and stocked up on all essentials, including soy milk, pre-cooked beans in a glass jar, Seitan, and canned baked beans. You'll notice that I shopped for protein & calcium. You won't find any restaurants on Menorca, which prepare balanced vegan meals, and protein & calcium especially is something that's missing from most vegan dishes.
There are five Binipreu supermarkets on the island. I've provided the link to their Website. You'll find locations and opening hours there. We also shopped at the Bellavista branch, which is only a couple of blocks away from Apartamentos Royal, where we stayed. The selection there is much smaller (soy milk, pre-cooked beans in jars).
Two Binipreu branches are open on Sundays, the one at the airport, and Binipreu Via Ronda. We didn't shop there, but the one on Via Ronda looks like it's the biggest branch of them all (with a car park, we drove past it).
Caustre del Carme is located on Sa Placa
Binipreu Sa Placa 0pening hours: Monday – Saturday 9:00 – 9:00 PM, closed on Sundays and holidays
Website for all Binipreu supermarkets, with opening hours
On the ground floor of the Claustre del Carme, in the arcades, are various small shops, including several greengrocers.
I found that Fruits Andreu had the best selection of vegetables and fruit, and they also sell a small selection of organic and/or vegan foods, grains mostly, but also tofu.
If you choose to stay at Apartamentos Royal, in addition to the Binipreu supermarket on Ctra. Bellavista (at the corner of Carrer Sant Sebastia) there's a Tres Pans bakery right around the corner, on Av. Fort de L'Eau. I forgot to write down the opening hours (as usual), but if I remember correctly, they open early, at 6:00 AM (check!). There's also a Spar Express (very small, we didn't actually shop there) on Av. Fort de L'Eau (close to the corner of Cami des Castell), which is open on Sundays.