Please note: This article was first published on The Vegan Tourist and last updated July 28, 2013.
Update, July 28, 2013: Vegan Food Shopping in Maó (Mahon), Menorca – this blog entry lists stores in the vicinity of Apartamentos Royal.
Original blog entry:
In one of my recent blog entries, Vegan Survival Tips for Menorca, Spain, I advised readers to rent an apartment and not to stay at a hotel. Here's where I stayed during my recent vacation:
Apartamentos Royal is located in Maó (Mahon), near the harbour. Its location is one of its best features. You can have dinner at a restaurant in the harbour (and a few drinks) and then walk back to your apartment. No need to drive. Apartamentos Royal is situated one block from a bus stop that is serviced by two of the four major bus routes. The number 11 bus circles the city, and part of its route leads through the harbour and up a very steep road – the apartment block is at the top of the hill, the bus stop is across the road.
The city is situated on a hill. The harbour district – down by the water – is called Baixamar. The rest of the city is located up on the hill.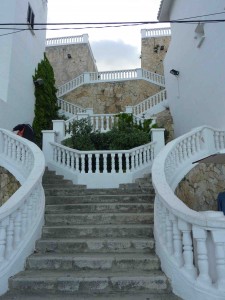 Prepare yourself mentally to climb many, many steps. The photo on the right shows some of the steps that lead from the harbour to the top of the hill, near the Apartamentos Royal.
Another bus route, which stops one block from the apartment block – the number 15 bus – leads right through the city's centre. All buses stop at the city's bus terminal, where you can change buses, e.g. to take the number 10 bus, which stops at the airport, or to catch one of the many buses that service the other cities and villages on the island of Menorca.
During our stay we used buses for the first few days, then rented a car, as most of the major cultural sights can't be reached by bus. I usually drove through the harbour whenever we left the city or came back from our sightseeing trips, as the ME1 – the highway, which connects east and west – starts right at the harbour's end. (Maó is located in the east of Menorca.) I didn't have to drive through the city, and it was a great way to avoid rush hour.
It's also so much more pleasant to drive along a beautiful Mediterranean port than through city traffic. Whether you drive north, west, or south, Apartamentos Royal's location close to the harbour is one of its best features, as you can avoid city traffic whenever you want to leave Maó.
We vacationed on Menorca in April, and the tourist season doesn't start until May 1st. This means that we always immediately found a parking space on the street close to the apartment building. I can't say how it'll be during the high season.
You can also walk to the city's centre from the apartment building. It takes about 15 minutes, if you walk slowly. You'll simply have to walk along Carrer Carme, and it'll take you right to the centre. There's a supermarket on Sa Plaça (the centre), which sells vegan staples like tofu, pre-cooked beans, soy milk, and various organic products. I'll write a separate article about the supermarkets near the Apartamentos Royal in a few days, and then I'll link to this post. There's another supermarket near the apartment block, plus a small grocery store that's open on Sundays (a rarity, believe me). There's also a bakery across the street, which opens early. I'll provide more information about these stores in a few days.
We – two people – stayed for eleven nights in a one-bedroom apartment, and it cost 450 Euros in April including tax. I thought that was a good deal. The apartments are very basic, but not tiny. There were tiled floors throughout, which I loved, as that's so much more hygienic than carpets. What can I say – I like it clean. You get (cheap, synthetic – vegan) blankets for your beds, but everything's clean. The bathroom's shower was great – very hot water, high water pressure. The living room opened up to a terrace big enough for sunbathing, and there's a small kitchenette: two hot plates, a coffee maker, a toaster, and enough pots and pans to cook simple dishes for two people. The walls are quite thin, though. In the summer, when the apartments are all rented out, you'll probably hear a certain amount of noise through the walls. There's a pool, situated between the two buildings, which make up the apartment complex.
We cooked dinner five or six times during our stay – mostly simple meals that included beans or Seitan or other vegan staples, and this was one of the reasons why we chose to rent an apartment in the first place. You'll be able to get some vegan food at most restaurants, but very often your only choice will be salad and toasted white bread with garlic or bits of tomatoes. Being able to cook nutritious and balanced meals, which include protein, calcium, iron, etc., and which you simply can't get at most Menorcan restaurants as a vegan, was very important to me. We packed sandwiches most days for lunch, too. Eleven days is simply too long to live without proper nutrition.
Apartamentos Royal consists of two blocks with 17 apartments each. There are photos and descriptions on their website. There's also a restaurant on site, but it was closed in April. Don't hold you breath, though. I very much doubt that they offer vegan dishes. But it can't hurt to ask them to put vegan dishes on the menu when you book an apartment for your vacation. The more people ask, the more likely it is that they will change the menu.
There's also a café on site, which is actually quite popular with the locals who stop by in the mornings for a coffee on their way to work or for a drink afterwards (including the local police). There's a big TV screen in the café, and it's always tuned to the sports channel. Lots of guys of all ages sit there and watch sports. I spent quite some time at the café, as there was no WIFI in my room. I freelance as a journalist, and I had to check my Emails every day and do some research on the Internet. Most days, I spent an hour or two at the café, which is why I got to watch the locals up close. There's nothing to eat for vegans in the cafe except potato crisps. There's no soy milk for your coffee at the café, either.
When you book your room, make sure to insist that they check if the WIFI actually works in your room. All the rooms are supposed to have WIFI, but it doesn't work in room number 5.
All in all, I was quite satisfied with the apartment, which I found over the Internet. I'd stay there again, if I went back to Menorca for another vacation.
Website: http://www.apartamentosroyal.com/
Address: Carrer Carme, 131 Mahon, Menorca, Spain
Phone: 0034 – 971 – 36 95 34
Email : info@apartamentosroyal.com