Please note: This article was first published on The Vegan Tourist and last updated August 9, 2016.
Legumium is a small vegetarian – mostly vegan – bistro in Wiener Neustadt, in the state of Lower Austria. Wiener Neudorf is located about thirty minutes (by car or train) south of Vienna, Austria's capital.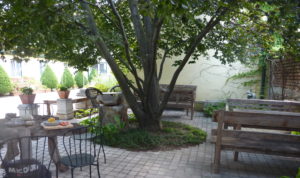 The bistro only has two tables for customers inside the restaurant, but it has a lovely Schanigarten, an outdoor seating area, where you can enjoy your lunch in the summertime. Legumium has a small menu, it offers three or four different soups (4.80 Euros) and entrees (7.50 Euros)  as weekly specials. You can also order wraps, a gluten-free burger, sandwiches, a mixed salad, a couple of desserts, and a few other snacks. All the dishes are available for take-away, and Legumium offers a delivery and catering service.
Many of the bistro's dishes are prepared with homemade vegetable spreads – called Legummus – which you can purchase. The restaurant uses many organic and regional ingredients, take-away dishes are sold in reusable glass containers, and the electricity for the restaurant is produced through solar panels installed on the restaurant's roof.
During my visit, I ordered a cold melon soup, which was very refreshing, and a sweet potato-coconut-risotto, which was also very good.
Legumium
Address: Bahnstraße 6A, 2351 Wiener Neudorf
Phone: +43-(0)-2236-22 23 22
Email: office@legumium.com
Opening Hours: Mondays – Fridays 12:00 noon – 5:00 PM, closed on Saturdays, Sundays, and on public holidays. Shorter opening hours apply during the summer months, and the bistro is closed for a few weeks during the wintertime.