Please note: This article was first published on The Vegan Tourist and last updated June 11, 2015.
Veganmania just keeps getting bigger and better. Each year, the Veganmania summer festival tour stops in a number of cities in Austria and her neighboring countries. This year, Veganmania has tour dates in Austria, Germany, Switzerland, and Croatia.
In 2015, the Viennese and visiting tourists got to enjoy the Veganmania festival for four whole days, from June 3 – 6, and I managed to make it to the festival site on three separate days. It's always fun to catch up with friends and family, but even more enjoyable, if I'm surrounded by food stalls that sell vegan food. All the drinks are vegan, too.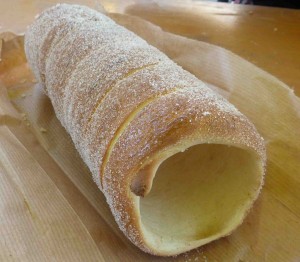 At Veganmania, I can eat and drink anything I like, and don't have to worry about (hidden) ingredients, additives, the food preparation process, or cross-contamination. I only have to decide which of the many delicious foods on offer I would like to taste first.
Veganmania is like a mini-vacation, and every year I look forward to this summer festival.
Of course, Veganmania isn't all about food. Live bands and DJs perform on a stage, you can buy vegan shoes and clothing, purses and cosmetics, books, specialty food items, and more at the vendors' market stalls. Several animal welfare organizations also have stalls at the festival, where you can collect information materials about their work, and educate yourself about animal welfare issues.
By the way, the 2015 Veganmania festival tour has just started. Throughout the summer, until early September, there are nine additional Veganmania festivals scheduled this year. All the tour dates are listed on the website, so check it out. Veganmania is organised by The Vegan Society Austria.