Please note: This article was first published on The Vegan Tourist and last updated August 28, 2014.
A year ago, I adopted a puppy from Paws Paleohora in Crete, who's now one year old and still wants nothing more than to play all day.
Daisy gets to play with other dogs in the dog park every day, but clearly that's not enough! So I decided to adopt another puppy from Paws Paleohora. This organisation does great work rescuing abandoned and stray dogs on the Greek island of Crete.
Daisy needed a friend to play with at home!
On August 25, 2014, Daisy and I waited patiently for the arrival of our new puppy.
6:30 PM: Phoebe – who I've renamed Teddy, because she reminds me of a Teddy Bear – arrives in Vienna, thirsty and hungry after a long flight.
According to the vet, she's a "mixed breed." Not sure which kinds, but I don't care. She's lovely and very shy in the beginning.
Getting to know each other…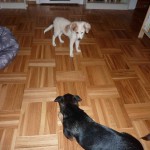 Bedtime…still keeping the distance.
3:30 AM: Let's Play!
6:00 AM: First walk on a leash. Daisy leads the way, and Teddy faithfully follows her.
They do like to eat, and pee and poop ( a lot), and they also sleep quite a bit. But mostly they just play…
…and play…
…and play…
…and play…