Please note: This article was first published on The Vegan Tourist and last updated July 27, 2019.
Last September (2017), I vacationed in Fažana, Croatia, with a friend and my two dogs. It was my first vacation since I adopted Daisy in October 2013 (and a second dog, Teddy, a few months later). My friend had been to Fažana before, and she didn't mind traveling with two dogs, one of which suffers from travel sickness and threw up in her car several times.
We rented a mobile home at Kamp Pineta, a large campground located at the Southwestern coast of the Istrian Peninsula, a few miles north of the ancient city of Pula.
We rented a two-bedroom & two-bathroom premium mobile home with a wooden deck, situated in the Camp's pine forest with direct views of the Mediterranean Sea.
As we vacationed in late September, during the last week of the season, the surrounding campground was mostly deserted, and I could let my dogs off their leashes. We took long walks along the beach and strolled through the huge campground.
On the first day, Daisy immediately proceeded to steal a piece of meat from a couple of German tourists who were enjoying their dinners outside their tent, which was pitched close to our mobile home. She stole it right from their plates! Luckily, they were cool about it, but you do need to mind your dogs. On campgrounds, people cook and eat outside, and if your dogs are anything like mine, you need to watch them constantly.
We had travelled to Fažana by car from Vienna, Austria, and I brought organic (non-vegan) dog food with me from home, as well as organic rice milk, organic smoked tofu, and organic canned beans in tomato sauce. It's a good think I did, as the town's small supermarket doesn't stock a lot of groceries for vegans. You can buy fresh fruit and vegetables (mostly non-organic), but you'll find it considerably more difficult to find any products with vegan protein. There's a small grocery store at Kamp Pineta, and you can buy non-organic canned beans there, but not much else in terms of vegan protein (organic or otherwise). You also won't find vegan dog food or organic dog food (with meat) at any store in Fažana, so bring it with you, if you can. Veganism is still very much an alien concept in Croatia, as is organic farming. They've got some catching up to do!
We cooked dinner several times in the small kitchen of our mobile home, and ate pasta with beans and smoked tofu on the deck, watching the sun set over the Mediterranean Sea. It was lovely.
We did venture into Fažana several times to eat dinner. A path runs straight through the campground along the water into town, it's a leisurely 15-minute walk. Fažana is tiny, most restaurants are situated right by the sea at the harbor.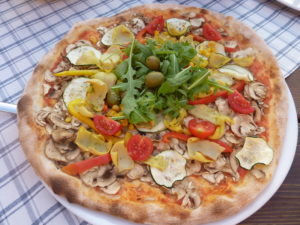 We ate dinner twice at "Korta," which – like all restaurants in Fažana – specializes in seafood dishes; but they also serve pizza and were happy to prepare mine without cheese. So that's what I ate, twice: a mixed salad, and a cheese-less pizza topped with various vegetables.
Another time we ate dinner at "Batana," another seafood restaurant at the Fažana harbor. The vegan options at this restaurant were limited to Ajvar (a paste made from red bell peppers, garlic, aubergine, and chili peppers), pickles, marinated olives, grilled vegetables, French Fries, and various salads (e. g. cucumber, tomato, mixed). I ordered Ajvar, grilled vegetables, and French Fries. I liked the food, but it was an odd assortment of dishes for dinner.
For vegans, the choices are limited; your dinners will consist of carbs & vitamins, but you won't get much protein. Keep that in mind when you travel to Croatia.