Please note: This article was first published on The Vegan Tourist and last updated October 6, 2013.
If someone tells you that there are three abandoned puppies that need a home, could you say "no?"
All three puppies will find good homes.
One of them already has.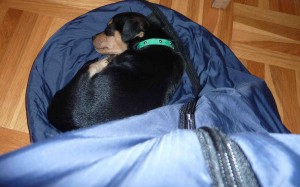 Welcome to Vienna, Daisy.
October 3, 2013: Day One, 3:00 AM – 8 hours after she first arrived at my home. Me, hard at work at my desk (so I can pay for the dog food & treats & toys & vet & dog taxes & pet insurance), wrapped in a sleeping bag for warmth.
Daisy helps.