Please note: This article was first published on The Vegan Tourist and last updated August 11, 2013.
Es Mercadal is a small town at the centre of Menorca. Depending on which guide book you read, either 2.400 or 5.400 people live there. From es Mercadal, an access road leads up to Monte Toro, at 357 (or maybe 358) metres the island's highest mountain. One thing all the guide books seem to agree on is that es Mercadal is the island's "culinary centre."
I beg to differ.
Yes, there are a few restaurants in this small town. And – as usual – several were still closed during the off-season (or only open in the evenings) in April, but this claim to fame left me baffled. Vegans have the usual choices: toasted bread and salads, and not much more. So don't get your hopes up.
I will review two restaurants in separate articles in the next few days, but today I want to give you some (food) shopping information.
Dietètica Margarita, located at Carrer Nou 29, is a small herbalist/health food store. They sell all kinds of nutritional supplements, organic food, cosmetics, and also tofu, Seitan, soy milk, etc. (They don't sell fresh fruit or vegetables.) I bought a two-pack of caramel oat pudding (2.10 Euros) and a quinoa bar (1.00 Euro) there. We stopped by mid-morning and had a whole day of sightseeing ahead of us, so I didn't buy any chilled items. But this store sells a few refrigerated foods that are a welcome addition to any vegan diet, so drop by. The store doesn't have a website.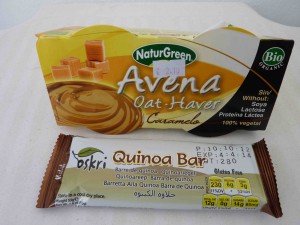 That's it. I don' have any more shopping tips for you for es Mercadal, and I'd appreciate any additional information from readers.
Es Mercadal is really quite small. The town centre basically consists of just a few streets. There's a crafts museum, located in old British military barracks, The Centre Artesanal de Menorca. It was still closed in April.