Please note: This article was first published on The Vegan Tourist and last updated July 10, 2013. (I deleted inactive/selected links on November 28, 2021.) The restaurant seems to be no longer in business.
p'aa is currently (as far as I know) the only vegetarian restaurant in Linz, Austria (July 2013). I dined there recently with my mom, a frequent dining companion whenever I review vegetarian restaurants. She's not a vegetarian herself, but always willing to try new things. More importantly, she lets me eat off her plate, and so I always get to sample twice as many dishes at restaurants as I would if I dined there by myself or with friends. If you steal food off your friends' plates, they won't stay your friends for long. Mothers, on the other hand, have no choice. They're stuck with their children, no matter what they do.
Anyway…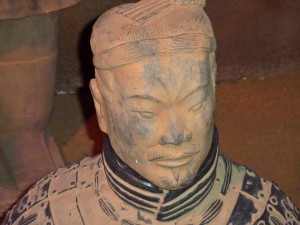 We'd come to Linz to celebrate my mother's 82nd birthday. One of her gifts from my brother and sister-in-law was an all-expenses paid day-trip to Linz, where replicas of the terracotta army of China's first emperor Quin (d. 210 B.C.) were on display at the Tabakfabrik.
The mausoleum of Qin Shi Huang is the largest preserved mausoleum in all of China, and a UNESCO World Heritage site. Replicas of the terracotta warriors and horses have been exhibited all over the world since 2002, but were only displayed once before in Austria (in 2007). So this was a rare opportunity, and we didn't mind the 90-minute train ride from Vienna to Linz, the capital of Upper Austria, one of Austria's nine provinces. If you ever get a chance to see this exhibition, go!
While in Linz, we also stopped by the Schloßmuseum (castle museum), located in an old castle on the Pöstlingberg (a hill, overlooking Linz), to see the exhibition "Marco Polo – From Venice to China." We immersed ourselves in Chinese arts and culture all day long.
And no, we did not have lunch at a Chinese restaurant, too. Instead, we had lunch at p'aa, a vegetarian restaurant my mom found on the Internet.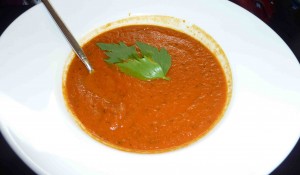 p'aa is located in Linz's city centre – conveniently located on a street called Altstadt (old town). It is located in an old, vaulted building and the restaurant's architecture – a link to the past, when life was much less hectic – adds to the restaurant's relaxed atmosphere.
We took our time, and enjoyed a leisurely lunch, which lasted well over two hours.We ordered tea (for me) and elderberry flower juice (for my mom).
We started off with pomodori secchi ciabata (bread made from wheat, yeast, olive oil, and sea salt, with sundried tomatoes), pappa al pomodoro (tomato soup, with fresh herbs, for my mom – see above), a dip made from roasted red peppers (the dips change daily), and rosemary roasted potatoes (for me).
As an entrée, my mother chose oven-baked basil gnocchi with caramelized onions & white cabbage, and smoked tofu (served with a tomato & mâche side salad).
I chose potato dumplings with sage and tartar sauce, served on a bed of mixed salads (red beets, two kinds of beans, soy beans, cherry tomatoes, fennel, various green salads).
It was all rather very good.
The portions are quite big, too. I ordered my entrée from the appetizer's menu, but was completely full after I finished my meal. (The rosemary-roasted potatoes might have had something to do with that, too…I ate every single one of them; potatoes are quite easily my favourite food.)
In spite of everything we ate, we decided to tackle dessert as well. I chose banana fritters (in a coconut batter) with pureed fruit, and my mom chose chocolate pudding with pureed fruit and whipped cream. I liked my dessert, but I really loved hers. (I told you, I steal her food.)
The menu at p'aa changes frequently, so there's no point in giving you individual prices for each dish. Altogether, the bill came to 42.20 Euros (including tax, without tips). That's very reasonable, if you consider that we ordered appetizers, entrees, desserts, and drinks for two people.
I highly recommend this restaurant. Not only was the food delicious, they have a huge – and I mean huge – selection of dishes that are either vegan or can be veganized. I don't think I know any other vegetarian restaurant in Austria where vegans have so many options. In fact, we had such a great time that I'd like to celebrate my own birthday there, too.
All vegan dishes are marked with a star *. Dishes, which are available both for vegetarians and vegans, are marked with a star in parenthesis (*); just let the waiter know if you want the vegan version of your dish.
If you're in a rush or only want to eat a snack or a small dish, you can choose to eat at p'aa delights, which is a separate room inside the restaurant and basically a bistro. Opening hours differ from the restaurant. There's a small shop attached to the bistro, where they sell a selection of vegan foods.
Check out the restaurant's website (German-language only), especially the photos.
Address: Altstadt 28, 4020 Linz, Austria
Opening hours for the restaurant: Monday to Saturday 11:00 AM – 2:30 PM and 5:30 PM – midnight
Opening hours for the bistro, p'aa delights: Monday to Saturday 11:00 AM – 5:30 PM
Phone: +43-(0)732-77 64 61
Website: no longer active