Please note: This article was first published on The Vegan Tourist and last updated October 29, 2013.
Alaior is the third-largest town on the island of Menorca, after Maó and Ciutadella. My various guidebooks list the town's population somewhere between 6.400 and 9.400 people, and I have trouble believing either number. Alaior is quite small, and half a day will give you plenty of time to explore the town centre.
Alaior is famous for two things: cheese-making and the production of abarcas, flat leather sandals – neither of which is of any interest to vegan tourists. But the town is lovely and we took the self-guided tour suggested in Robert Zsolnay's (German-language) guide book Menorca.
There's a small herbolario (herbalist's store) right in the town centre, which also sells organic and vegan food. You can buy tofu, Seitan, soy and rice milk, vegan spreads, and cosmetics (e.g. Weleda) at Hort de Temps.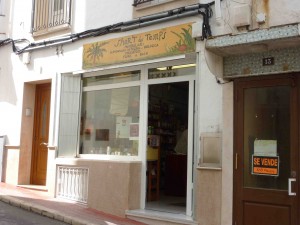 I bought a jar of shitake pate there. They sell organic bread. No fruit or veggies, but right across the street is a greengrocer's.
We also shopped at Hiper Centro, a supermarket in Coll del Palmer, across the street from Capella de Gràcia, which today houses the tourism office. Coll del Palmer leads towards Plaça de la Constitució.
We only bought some water and potato crisps at Hiper Centro, but they also sell fruit and vegetables, soy milk, an assortment of nuts and dried fruit, and pre-cooked beans in jars; but no soy yoghurt, hummus, tofu, or other staples of a vegan diet. It's a medium-sized supermarket, despite the "Hiper" in its name.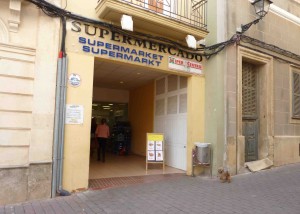 I popped into another supermarket to check it out, when we passed it on our stroll through the town centre. It's called Supermercats San Crispin, located at Carrer des Ramal 39, vis a vis from the Plaça des Ramal. Supermercats San Crispin is a food co-operative, they aim to sell (many) fairly produced and local products. They have four stores on Menorca, as far as I could understand, as their website is only published in Spanish.
This store is smaller than the Hiper Centro store, and I noticed that all the soy milk on offer at this particular store had added Vitamin D. I usually avoid products with added vitamin D, as this often means Vitamin D3, which is derived from animals. They did sell rice milk, assorted nuts, dried fruit, and pre-cooked beans in jars; but no vegan yoghurts, hummus, tofu, Seitan, etc.
Hort de Temps
Address: c/es carreró 11, Alaior 07730, Menorca
Opening hours: Monday – Friday 10:00 AM to 1:30 PM, and 17:00 PM to 20:00 PM, Saturdays 10:00 AM – 1:30 PM
Phone: +34 – 971 – 378 886
Website: http://hortdestemps.blogspot.co.at/
Hiper Centro
Address: Coll del Palmer, across the street from Capella de Gràcia, 07730 Alaior, Menorca
Opening hours: Monday – Saturday 8:30 AM – 2:00 PM, and 5:00 PM – ?? (sorry, I can't read my notes). Closed on Sundays and Holidays
Phone: ??
Website: I couldn't find one
Supermercats San Crispin
Address: Carrer des Ramal 39, Alaior 07730, Menorca
Opening hours: Mondays – Saturday 8:30 AM to 2:30 PM; afternoons: ???; closed on Sundays
Phone: +34 – 971 – ??
Website: http://www.sancrispin.net/