Please note: This article was first published on The Vegan Tourist and last updated December 21,2015.
"Vegan Planet" is the "largest vegan fair in Austria," according to its organizers, the Vegan Society Austria. In 2015, it took place from November 27-29 at the Museum of Applied Arts in Vienna, and was organized in conjunction with the "Yoga Planet" fair, just like last year. In the past, I never managed to attend the "Vegan Planet" fair, so my expectations were high for this year's event. Sadly, I was thoroughly disappointed.
The food was great! There were numerous vegan vendors, many of which I was already familiar with.
I love Veggie Burgers sold its amazing French Fries, Makam Naturkost made delicious vegan Kebabs, and the Popsicles sold by Freiraum Coffeeshop Deli – which is not a vegetarian café, but offers many vegetarian and vegan dishes – were to-die-for. Soooo good, best popsicles ever!
In addition to various food and drink vendors, there were many other market stalls at this fair. One could buy nutritional supplements, teas, vegan cosmetics,  T-shirts, yoga pants, yoga mats, stones with – allegedly – healing powers (sorry, I don't believe in that crap), and various NGOs offered brochures and other information materials about their animal welfare work.
During this three-day event, one could also attend various workshops and learn about the many advantages of a vegan lifestyle (and the practice of yoga). So far, so good.
So why was I disappointed?
I am in desperate need of a pair of winter boots, and a new winter coat. I bought my woolen coat approximately 30 years ago, long before I learned the true meaning of the word vegan. It's coming apart at the seams, and the sleeves' cuffs are already frayed. I look like a homeless person in this coat. My last – and currently only – pair of warm vegan winter shoes are a pair of old hiking boots, not really suited for rain and snow, which quickly turns to sludge in the city, and not suited at all for business meetings and other work-related events.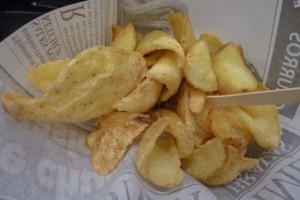 I had hoped that there would be some vendors, who would offer vegan clothing appropriate for winter time. But no, nothing! I could've bought a thousand T-shirts, but no shoes, and no coat.
The only vegan boutique in Vienna, Muso Koroni, didn't even exhibit at this fair. (It wouldn't have mattered anyway; I went to the Muso Koroni store in early November, and they were all sold out of winter boots in my size; they didn't plan on reordering any more winter shoes. In early November! How weird is that?).
So this is where we're at right now in Vienna: lots of great vegan food, but little else in terms of vegan living. If you don't want to walk around dressed in yoga pants and T-shirts in all weather, you'll still have trouble finding proper vegan clothing in Vienna. I guess I'll have to order shoes over the Internet, from Vegetarian Shoes in Brighton, United Kingdom, and I am seriously thinking of designing my own winter coat, buying the fabric, and then hiring a seamstress to sew it for me. How sad is that? I would've thought that we had made more progress by now.