Please note: This article was first published on The Vegan Tourist and last updated June 10, 2013. (I deleted inactive/selected links on November 28, 2021.)
Ciutadella is Menorca's "second city."  It was the island's capital until 1722, when the British – who seized Menorca in 1708 – chose Maó as their capital due to its superior deep-water harbour. Today, approximately 21.000 people live in Ciutadella.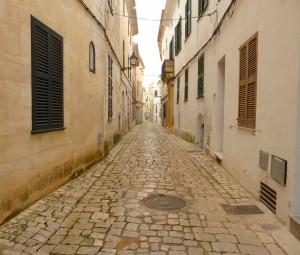 The town's historic centre is its main attraction for tourists and a single day-trip should suffice to see all the major sights.
We took a bus from Maó's central bus station on Plaça de L'Esplanada. Here's a link to the island's bus routes and timetables in English. The journey lasts about 70 minutes. There are express buses, which don't stop in the towns in between Maó and Ciutadella (Alaior, es Mercadal, Ferreries), and the bus fare is the same (5 Euros one-way during the off-season in April 2013), so check the time-tables. In Ciutadella, the buses stop at Plaça Menorca, only a five-minute walk from the city centre.
Unfortunately, we had bad luck in terms of weather. It rained all day and as a result, we spent considerably less time in Ciutadella than we'd originally planned.
It started to rain shortly after we got off the bus in Ciutadella, so we decided to start the day with a coffee break. We chose Gelateria Es Pins simply because it was the first coffee shop we passed. It's on Plaça dels Pins. I had a cup of tea (1.40 Euros) and pa amb tomàquet (toasted white bread, topped with garlic, olive oil, and crushed tomatoes), which was rather big and only cost 1.70 Euros. I was hungry, and as usual, pa amb oli – or a version thereof – was the only vegan food on offer. But it was actually quite good, and I was happy to be out of the rain.
Afterwards, we spent about two hours walking through the city centre and saw all the major sights, most of which – like the Palau Salort or the Museu Diocesà – were still closed during the off-season (they open in May). We were only able to get into the Catedral de Santa Maria and the Museu Municipal, which is located in the Bastió de Sa Font. If you haven't bought a guidebook yet, Berlitz's Menorca pocket guide lists all the major sights. We also bought two German-language guidebooks, Marco Polo's Menorca, and Robert Zsolnay's Menorca, published by Michael Müller Verlag. The latter is definitely the best of them all, but unfortunately it's not available in English.
During our stroll through the city centre we passed a supermarket and went inside to check it out. The store's quite big, but unfortunately it doesn't offer much for vegans. They did sell Provamel soy milk with added calcium, pre-cooked beans in glass jars, and an assortment of nuts, but no soy yoghurts, tofu, hummus or any other staples of a vegan diet.
The supermarket Hnos Salord is located at Carrer del Portal D'Artrutx, 5. Listed opening hours were Monday-Friday 8:00 AM – 2:00 PM, and 5:00 PM – 9:00 PM. Saturday 8:00 – 2:30 PM. The supermarket is also accessible from Con Sant Onofre, 12.
We walked through Carrer de Josep Maria Quadrado, also known as Ses Voltes (arcades). The arcades are very beautiful (see photo), but unfortunately almost all the stores are tourist traps. They sell all kinds of souvenirs, including many leather-sandals (Menorca is famous for the production of leather goods, especially for the production of abarcas, flat sandals.) All those souvenir shops really ruined the experience of walking through century-old arcades.
Anyway, when you walk through Ses Voltes, towards Plaça de la Catedral, you'll pass a Pizzeria on the right. The restaurant was still closed when we walked by mid-morning, and the menu didn't really list many vegan options, but still – if you don't want to eat pa amb oli once again, this restaurant might be an option. Unfortunately, they don't have outdoor seating.
After we finished our sightseeing tour through Ciutadella, we ended up at Cercle Artistic on Plaça Born 19, which is actually listed in most of the guidebooks due to its history – it was once home to an artist's association. Today, it is just a café, with some sort of gambling/slot machine inside, and it was quite disappointing. We sat at a table in the back – with good views of the harbour – , and I ordered the only vegan dishes on the menu: pa amb tomàquet (2.25 Euros), and a bowl of olives (1.25 Euros). As a vegan, you'll live cheaply on Menorca. We chose this cafe simply because it had started to rain heavily again, and it was the nearest restaurant/cafe that was open.
Due to the bad weather, we didn't see as much of the city as we'd hoped, and I'm sure there are much better dining options for vegans in Ciutadella. For example, we never even made it down to the harbour, where the quays are lined with shops and restaurants. If you have any recommendations, please add them in the comments section, so vegan tourists will find more helpful tips here than I am able to provide.