Please note: This article was first published on The Vegan Tourist and last updated June 24, 2012.
In 1998, the Vegan Society Austria (Vegane Gesellschaft Österreich) organised a number of events in a few Austrian cities. "Veganmania" gave local vegan businesses an opportunity to present themselves to a wider public.
For many, these Veganmania events were the first opportunity to taste vegan foods and drinks, or buy vegan clothes, shoes, and cosmetics. Local animal welfare organisations were also represented and provided information about a variety of animal welfare issues.
The Veganmania "summer tour" quickly grew, and more dates were added each year. In 2010, an event in Munich (Germany) was added, and several more in 2011. This year, for the first time, Veganmania events are organised not only in Austria and Germany, but also in Switzerland, Slovenia, and Croatia, in co-operation with local vegetarian or vegan organisations.
The success of Veganmania shows that there is a huge demand for vegan foods and products. In Vienna, where the Veganmania festival took place last weekend (June 15/16), three dozen vendors sold their vegan wares to the public. There was also a music stage, where bands performed throughout the two-day festival, and a parade was organised on Saturday.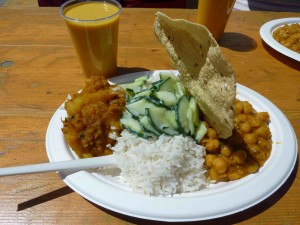 I bought an ethical shopping guide from "animal.fair," and vegan cakes and pastries from "Bernds Welt." I bought my lunch from "Dharamsala," a catering company, which offers Indian food.
The Vegane Gesellschaft Österreich offers more information on its Veganmania website. Unfortunately, all the information on this site is in German. However, there are many photos, which will give you a good idea about what to expect.
If you intend to visit Austria (or Germany, Switzerland, Slovakia, or Croatia), I encourage you to check out my brand-new events calendar (in the right-hand column of this page). I will list all the upcoming Veganmania tour dates there, and will provide updates as necessary.
Website: http://www.veganmania.at