Please note: This article was first published on The Vegan Tourist and last updated May 25, 2019.
Update May 25, 2019: This restaurant closed in 2017.
Original blog post:
Die Bio Bar is owned by Antun Petrovic, hence the restaurant's full name. In Vienna, it's commonly known as the Bio Bar, one of the very first organic, vegetarian restaurants. It's been in existence for many years.
The Bio Bar is a symbol of sorts for the success of the green movement (organic and otherwise) in Austria. Today (2012), 20 % of all farmland in Austria is farmed organically. Worldwide, only the Falkland Islands (36%) and Liechtenstein (27%) farm more land organically than Austria.
Antun's wife Madeleine is President of the Wiener Tierschutzverein, the second oldest animal shelter in Europe, which has been in existence since 1846. It does not euthanize and has rehomed countless animals. She is also one of Austria's most widely-know politicians (and a prominent member of the Green Party), so the restaurant has been a hangout for green politicians and environmental and animal welfare activists right from the start. Not much has changed since.
The Bio Bar has a huge menu, and many of the dishes are vegan. The bilingual menu (German and English) also indicates which of the vegetarian dishes can be veganized. (Please note that on the website the menu is only listed in German).
The Bio Bar offers daily (vegan) lunch specials for about 8.00 Euros (soup, salad, entrée).
The evening menu is only available after 5:00 PM (a little later on Saturdays, Sundays and holidays). If you are a tourist from abroad, you should definitely try to have dinner at the Bio Bar instead of lunch. The restaurant specializes in adapting Austrian dishes for vegans, and many of those dishes are only available in the evenings.
Most Austrian dishes contain meat or milk, butter, and eggs. A considerable number of traditional Austrian dishes are desserts, but often eaten as entrees.
At the Bio Bar, you can choose between Wiener Schnitzel, Zwiebelrostbraten, Tiroler Erdäpfel-G'röstl, Erdäpfelgulyas, Wiener Würstchen, Pfeffer "Steak", Cevapcici, and many more dishes. Palatschinken and Kaiserschmarren are famous Austrian desserts.
It's worth noting that many of those dishes originated in other countries, but due to our shared history during the Austrio-Hungarian Empire (1867-1918), all these dishes are now considered thoroughly Austrian as well.
Ćevapcici, for example, are grilled minced sausages, and are a national dish in many Southeastern European countries. Goulash, a potato-meat-stew with paprika, originated in Hungary.
I had dinner there recently with my mother, who's not only good company but also willing to share a variety of vegan dishes with me, even though she's not a vegetarian. She also always picks up the tab. (Thank you!)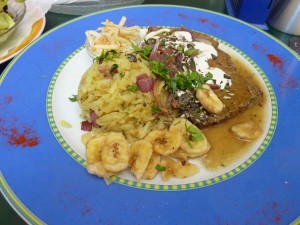 We shared the "Zwiebelrostraten" (13.90 Euros) and the "Erdäpfelgulyas" (8.90 Euros), as well as "Palatschinken" (5.90 Euros) and "Kaiserschmarren" (7.50 Euros).
For the "Zwiebelrostbraten," Seitan (wheat gluten) is used instead of roast beef. It is served with roasted onions, potatoes, an apple-horseradish dip, and vegan sour cream. It's very good, although I would have preferred the Seitan with a little less salt. The Zwiebelrostbraten is served with a side salad. The dressing is made with pumpkin-seed oil, another Austrian specialty.
As mentioned, Erdäpfelgulyas is a potato-meat-stew, and the Bio Bar's vegan version is served with rehydrated soy meat. This was my favourite entrée.
For dessert, we shared Marmeladeplataschinken, crepes served with Powidl (plum stew), and Kaiserschmarren.
The latter dish is basically prepared from the same batter as the Palatschinken, but torn into pieces during the cooking process. Raisins are added, and it is sprinkled with powdered sugar. Kaiserschmarren is served with compote on the side. (Compote is a sort of fruit stew).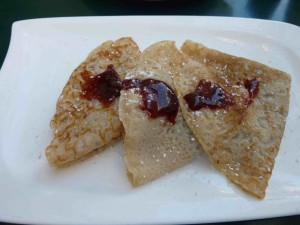 For drinks, we mostly stuck to mineral water. I did order a vegan non-alcoholic cocktail with pear-juice, soy milk, and shredded coconut, which contained a bit too much coconut for my taste. The coconut also didn't blend well with the pear juice. (3.50 Euros)
The restaurant is located in the 1st district of Vienna, at Drahtgasse 3, at the far end of Judenplatz. This is a pedestrian area, so there's no traffic, and the Bio Bar has a Schanigarten (outside seating area). It's perfect for summer evenings.
The inside of the restaurant could do with a new coat of paint and quite generally with a bit of a refurbishment. Not much (anything?) has changed since the restaurant opened its doors many years ago. Back then, the green movement was mostly supported by a few eco-warriors and students, and today it still has the look and feel of a student hangout, even though it is patronized by a much wider variety of people.
Antun Petrovic owns another restaurant, Bruschette Bio Bar.
Address: Drahtgasse 3, 1010 Vienna
Opening hours: Tuesday – Friday, 11:30 AM – 2:30 PM and 5:00 PM – 11:00 PM. Saturday, Sunday, and holidays: 12:00 noon – 11:00 PM. Closed on Mondays.
Phone: +43 – 1 – 968 93 51
Website: this restaurant has closed.