Please note: This article was first published on The Vegan Tourist and last updated May 25, 2019.
Update May 25, 2019: This restaurant closed in 2017.
Original blog post:
Yes, most dishes are served with rice, and they do taste very nice indeed.
This "café with vegetarian food" is geared primarily towards vegetarians, not vegans, but most dishes can be adapted for vegans' needs.
When I had lunch there recently, the special of the day was toasted polenta soup with curry leaves, fresh mint leaves and a variety of herbs (served with a couple of pieces of bread); the main dish was a plate of vegan koftas (fried peanut balls) with yams, a pears-and-red cabbage mix in a coconut-saffron sauce, served with basmati and wild rice. It came with a side salad (Iceberg) with a Balsamic vinegar and Tahini marinade.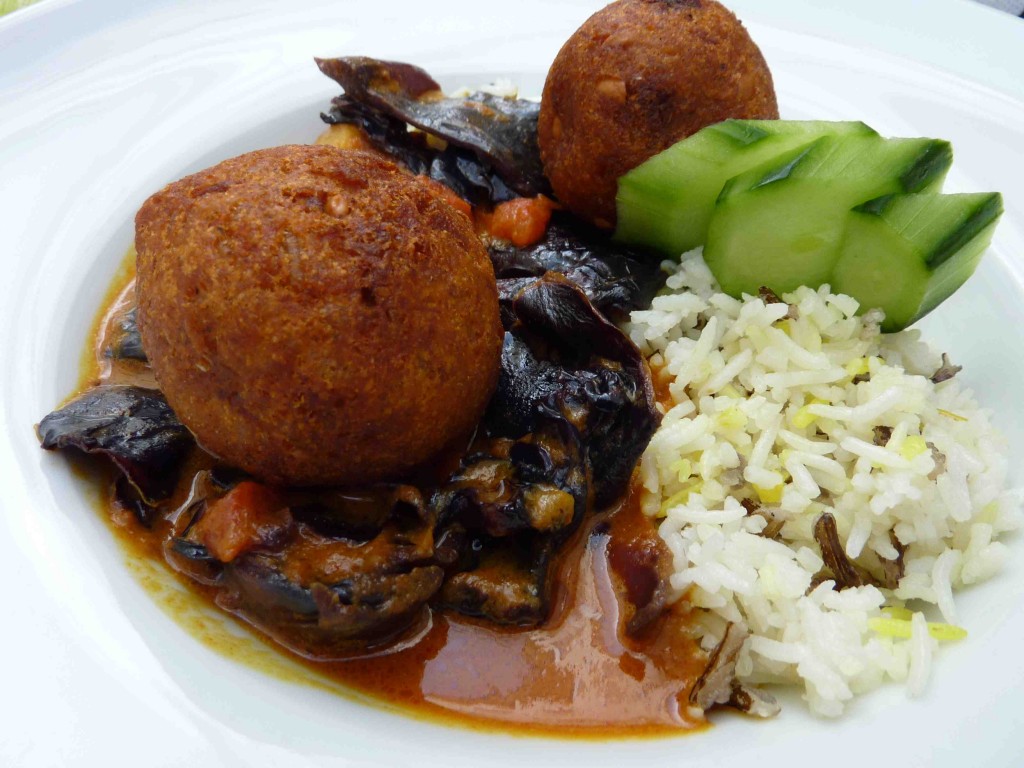 The dishes sounded vegan, but I wasn't certain (the cook could've used cream to make the soup, and butter to prepare the other dishes). I sent the waitress back to ask the chef, and was assured that the dishes were indeed all vegan. I'm not sure why the restaurant wouldn't mark the dishes as vegan on the menu, but they don't mind if you ask and double-check.
So I went ahead and ordered the special of the day, and it was lovely. Oriental food, but not spicy – just as I like it. It cost 11.50 Euros, which is a bit much for lunch, but the food was totally worth it.
The best part about Nice Rice is its location. The café is located in a series of courtyards off of Mariahilferstrasse, in the so-called Raimundhof. Enter the first (relatively big) cobblestone courtyard, and keep going. The restaurant is located in the 3rd or 4th passageway between two courtyards. When you reach the restaurant and the weather is nice, just keep going, down a few more steps into the next courtyard. The restaurant puts up a few tables there, and it's very pleasant and quiet – perfect for a leisurely lunch.
The restaurant is open primarily for breakfast and lunch (Monday – Saturday, closed on holidays); it closes at 7:00 PM.
Address: Raimundof #49 (access the courtyards at Mariahilferstrasse 45), 1060 Vienna.
This street crosses Mariahilferstrasse, Vienna's busiest shopping street. Closest subway/tube station is Neubaugasse, on the U3 line.
Opening hours: Monday to Saturday 10:00 AM – 19:00 PM, closed on holidays.
Phone: +43-1-5862838
Website: This restaurant doesn't have a website.